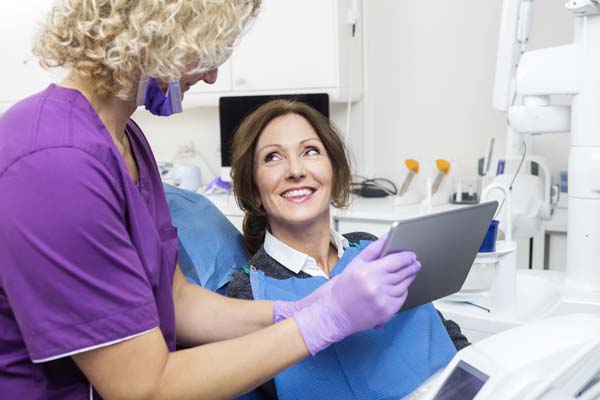 A restorative dentist can help you replace missing teeth and achieve a full smile of healthy teeth while also adding to good oral health overall. By understanding more about what a restorative dentist is and what issues they treat, you can determine whether or not visiting one is right for you and your specific tooth replacement needs.
How a restorative dentist can replace missing teeth
Many do not understand the benefits of a restorative dentist and exactly how they can provide patients with an affordable, practical solution for their missing teeth. The following is everything a patient needs to know about a restorative dentist, including how they can effectively treat missing teeth.
What is a restorative dentist?
A restorative dentist works to restore or repair severely damaged or missing teeth. They are concerned with and specialize in the diagnosis, treatment and aftercare of issues involving teeth and their supporting structures. They fully understand the importance of a healthy, full set of teeth and work to educate patients on what options are available to them and how to properly care for their teeth on a daily basis.
By visiting a skilled restorative dentist for missing teeth, patients can feel confident that they are in good hands and are able to receive effective treatment for their issue.
What can a restorative dentist treat?
A restorative dentist is able to treat a wide variety of issues. While they specialize in treating patients with missing teeth, they can also effectively treat those who suffer from severely damaged teeth or gums as well. Whether the patient is missing all of their teeth, a section of teeth or just a single tooth, a restorative dentist can diagnose the full extent of the issue, recommend treatment options, perform any tooth replacement procedures needed and provide aftercare in an effective manner.
What procedures can a restorative dentist perform?
A restorative dentist can perform a wide variety of procedures, and there are now several different options available to patients who suffer from missing teeth. Here are just a few of the procedures a restorative dentist is likely to offer patients:
Dental implants
Full or partial dentures
Dental bridges
Full arch replacement
The needs of each patient are different, and a skilled restorative dentist always examines the exact needs of the patient and works with them to find the most effective treatment possible.
Talk to a restorative dentist today
Every individual should be able to enjoy a beautiful, full set of teeth and feel confident each and every time they smile. Unfortunately, all too many avoid restorative dentistry for their missing teeth out of fear that the options are not affordable, too invasive or simply not effective in the long-term.
However, restorative dentistry works to provide multiple options to patients, regardless of their exact situation. If you are suffering from missing teeth and want to learn more about how a restorative dentist can help you restore the look, feel and function of your smile back to where it once was, then contact us today and schedule a time to come in for a visit.
Request an appointment here: https://www.palmbeachdentistry.com or call Palm Beach Dentistry at (561) 272-4110 for an appointment in our Delray Beach office.
Check out what others are saying about our dental services on Yelp: Dental Restorations.
---
Related Posts
March 2, 2018
If you have oral health problems, there is a good chance restorative dentistry will be necessary at some point in the future. Do not assume oral health issues will eventually work themselves out with improved …