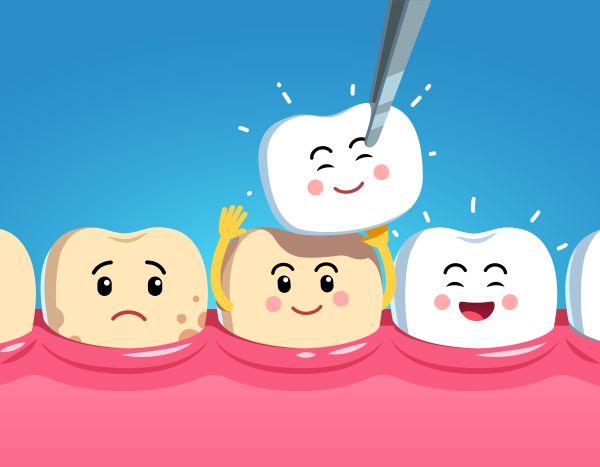 Some people want dental veneers but worry about the process. One misconception is that this procedure is painful. Another is that when finished, the teeth will not look and feel natural. In reality, having veneers placed is not painful whatsoever. Also, veneers look just like a person's own teeth. In fact, most people cannot tell the difference — even when up close.
Correcting dental problems
While dental veneers do create beautiful smiles, they also correct many types of dental problems. Whether someone has crooked, chipped or stained teeth, this is a great solution. An individual with an unwanted gap between the two front teeth can also get veneers. It all starts with a visit to the dentist's office. The patient and dental professional can discuss the different options and then chart the course.
What are dental veneers?
Veneers are thin layers made of either composite resin or porcelain. Following a mold taken of the patient's teeth, a dental laboratory makes them. After the application, the dentist shapes them to look fantastic. With problems hidden, people who wear dental veneers find themselves smiling a lot more than usual. They have good reason to, considering their teeth look amazing and they appear more youthful.
Getting started
For someone interested in dental veneers, it helps to have some idea of how the process works. After arriving at the dentist's office, an assistant will place a tray filled with a goopy substance inside the patient's mouth. After biting down and waiting for a minute or two, the goo solidifies. The tray now serves as a mold of the individual's teeth.
Based on that, a dental professional makes the veneers. Sometimes, this happens at a laboratory while at other times, the dentist has the equipment required in the clinic. Either way, it usually takes anywhere from two to four weeks to complete them. When ready, the patient would return to the dentist's office.
Next, the dentist removes a small amount of enamel on the teeth. This is what creates a good bonding surface. With that done, the dentist adheres the veneers to the patient's teeth. Because this is both a restorative and cosmetic procedure, the dentist places them on the teeth in the front of the mouth. From there, the dentist uses a small file to shape them. That way, the veneers align with the patient's permanent teeth and fit the mouth comfortably.
Going home
After someone has dental veneers placed, the dentist provides instructions for proper cleaning and care. It is important to understand that veneers are thin. Whether made from composite resin or porcelain, veneers can crack. If a patient tends to grind their teeth at night, the dentist will provide them with a customized mouthguard to wear while sleeping.
Finally, gorgeous teeth
After careful consideration, you finally decided to have dental veneers placed on your teeth. Now the fun begins. When the dentist completes the work, you can smile bigger than before. Because your teeth look so incredible, you will need to prepare yourself to receive a lot of compliments. If you have questions, be sure to contact a dental professional.
Request an appointment here: https://www.palmbeachdentistry.com or call Palm Beach Dentistry at (561) 272-4110 for an appointment in our Delray Beach office.
Check out what others are saying about our services on Yelp: Read our Yelp reviews.
---
Related Posts
March 27, 2020
If you are not pleased with how your smile looks, a smile makeover is something you might consider. During your meeting with a dentist, they might have recommended dental crowns as part of the procedure, …