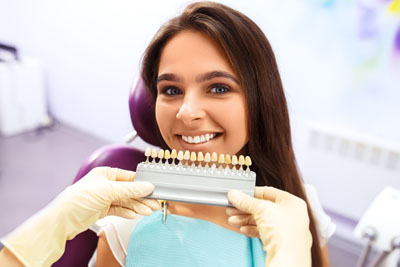 You do not have to live with dental issues now that dental veneers are so popular. It is common for people to have something they do not like about their smile. Regardless of how glamorous Hollywood stars appear, even they have dental imperfections that they have to correct for a stunning smile. This is good news because it means that you can have a stunning smile, too. Regardless of whether your teeth are stained, damaged, crooked, the wrong size, or full of gaps, we can help to improve their appearance and functionality in our dental office.
One of the most common solutions we use to do so is dental veneers. A veneer is a shell made of ceramic or porcelain and bonded to the surface of the tooth. Since it covers the visible part of the tooth, it can eliminate most imperfections.
Learn How Dental Veneers Can Help You
If there are any unsightly gaps between teeth, veneers are an ideal solution for correcting them. In this situation, one can get braces, but braces can take months to produce the desired effect and tend to be rife with the inconvenience. When wearing them, one will have to adjust eating habits and even make allowances for how long it will take to clean the teeth.
However, if a patient is only trying to close a few gaps, getting veneers is a much better option. Veneers can also to cover dark stains, make teeth appear straighter, while also changing the overall shape and size of the teeth. This makes veneers one of the most popular cosmetic dentistry procedures because there are few issues that veneers cannot correct.
The Process of Getting Dental Veneers
Once a patient decides to get veneers, it will typically take around two appointments to place them. On the first appointment, we will need to take measurements, along with an impression. We combine the measurements with a shade card match that will give the dental lab the information they need to create new veneers. It is critical that the veneers look perfect and match the surrounding teeth. While the dental lab is working on the veneers, we will prepare the patient's teeth.
We begin by removing a portion of the enamel from the surface of the teeth. Doing so ensures that the veneers will lay flat and the teeth will not look overly large once we place the veneers. Since this will naturally make the teeth sensitive, we will secure a temporary set of veneers to the front of the teeth using a water-based, removable glue. While they are good at protecting the teeth, patients need to be careful with how they eat and what they eat so do not dislodge them.
Foods like steak are off the menu for a week or so. However, once the permanent veneers are ready, you will come back in so they can be bonded in place using dental cement. Once they are, you can return to a normal diet and smile with confidence.
---
Related Posts
August 20, 2019
Some people want dental veneers but worry about the process. One misconception is that this procedure is painful. Another is that when finished, the teeth will not look and feel natural. In reality, having veneers …
---