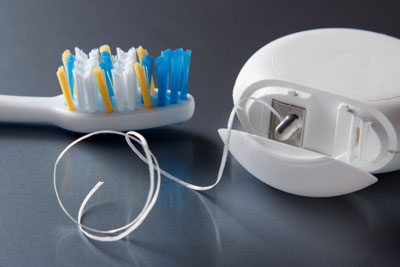 When it comes to oral health care, the average person does not pay close attention to flossing tips. This is attributable to the fact that most people receive at least a bit of criticism from their dentist at 6-month and annual appointments. However, people become more receptive to flossing tips as they age and their teeth gradually weaken.
While brushing is important and beneficial for one's oral health, flossing is also a crucial step. Flossing will only be beneficial if people learn the proper flossing techniques.
Here is a look at important flossing tips that will keep your teeth and gums in good shape.
Flossing Tips: Take Your Time
Flossing requires patience. If you rush through this portion of your nightly teeth cleaning, you will defeat the purpose of doing it in the first place. Take your time, clean each tooth all the way down to the portion where it reaches the gums.
Make your way through the upper and lower rows in your mouth. Be sure to floss at least an hour before you go to sleep so you are alert and energetic enough to perform a thorough flossing.
Proper Flossing is as important as The Time Spent Flossing
Be cognizant of the manner in which you move your floss along your teeth. Move the floss so it hugs each tooth. Form the shape of a "C" as you wrap your floss around each tooth at the gum line. Flip the floss over, let it get down in there between the gum line and teeth and you will enjoy a thorough clean.
Focus on the Gum Line
Be sure to move your floss below the tooth into the area between the gums. Though this might feel a bit uncomfortable at first, it is essential to maintaining your oral health. Do not lose sight of the fact that the toothbrush cannot get down below the tooth and clean the gums.
You need floss to reach this small space. If you fail to floss along the gum line, your chances of gum disease and additional systemic diseases such as heart disease are that much higher.
When in Doubt, be Gentle as Opposed to Forceful
The mantra of "Don't force it!" certainly applies to flossing. Go easy when flossing. Gently glide the floss between the teeth and the gum lines and you will dramatically reduce the odds of bleeding and/or pain.
If you stay comfortable and do not end up with bloody gums while flossing, you will be that much more inclined to floss for the appropriate amount of time each night.
Use a lot of Floss
It is advisable to use upwards of 20 inches of floss for your upper teeth as well as your lower teeth. Do not worry about the cost of floss. It is fairly cheap. Furthermore, you can't put a price on your oral health.
Use an abundance of floss each session so you do not run the risk of moving bacteria and food-laden portions of the floss from one tooth to the next and so on.
Call us at (561) 272-4110 for more information from Palm Beach Dentistry or to schedule an appointment in our dentist office in Delray Beach.
---
Related Posts
December 16, 2018
Toothpaste is an important part of everyone's oral hygiene routine. Brushing our teeth is something we should be doing at least twice each and every day, as this is recommended by dental professionals. Since there …
---