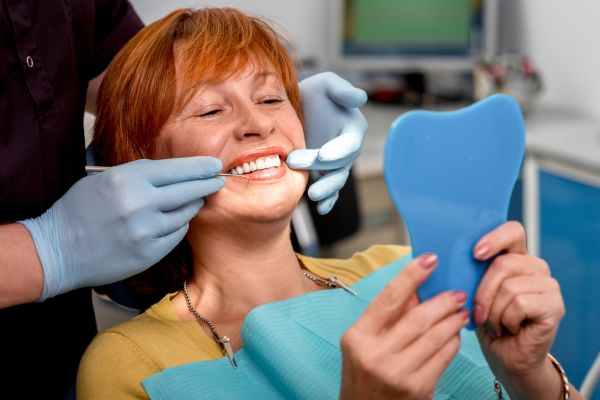 Dental implants and dentures are two of the more popular forms of tooth replacement, and it can be hard for many patients to choose the best option for them. To make a more informed decision, it is helpful to have an understanding of the benefits and drawbacks of each one.
An overview of dental implants vs. dentures
While many are familiar with both options, knowing more about each option is always beneficial. The following is an overview of dental implants and dentures, including information about what each option is and when one might be preferable to the other.
Dental implants
Dental implants are small screw-like dental devices that serve as the root of a replacement tooth. They are placed into the jaw through minor surgery. After placement, they go through a process called osseointegration, which is where the bone in the jaw fuses together with the implant. This provides a strong and durable hold to the implant. After the mouth has healed and osseointegration occurs, an abutment and artificial tooth (typically a dental crown) are placed to complete the process. When replacing multiple missing teeth, a bridge or a denture is attached to the implants.
Dentures
Removable dentures are a set of replacement teeth that rest and rely upon the gums for support. They look very similar to natural teeth, but they do not provide as strong of a hold as dental implants. However, the process for dentures is typically far less invasive than with implants. There are different types of dentures, including partial and full. Full dentures replace an entire row of missing teeth, whereas partial dentures can replace a single missing tooth or a section of missing teeth.
How to choose the best option
Both dental implants and dentures have advantages and drawbacks, and each patient should determine which option is most appropriate for them. The main benefit of dental implants is that they feel more natural as they attached to the jaw. They also preserve bone density, which is not the case with dentures. Dentures require a far less invasive process, and those who are unable or unwilling to go through surgery for replacement teeth may prefer removable dentures. The best way to determine the best option is to personally discuss your choices with a general dentist.
How to care for replacement teeth
Dental implants last much longer on average than dentures, but they both can last a long time with proper care. For dental implants, be sure to practice good oral hygiene, which should include brushing regularly, using mouthwash and flossing. The same applies to dentures, along with keeping the dentures clean at all times by washing them and storing them properly when they are removed. It is also important to follow post-care instructions provided by the general dentist and visit the dentist regularly.
Talk to a general dentist about treatment options
If you are interested in replacing a missing tooth or multiple missing teeth with dental implants or dentures, get in touch with us today to learn more about available treatment options. We help patients through the entire treatment process.
Request an appointment here: https://www.palmbeachdentistry.com or call Palm Beach Dentistry at (561) 272-4110 for an appointment in our Delray Beach office.
Check out what others are saying about our services on Yelp: Read our Yelp reviews.
---
Related Posts
March 27, 2020
If you are not pleased with how your smile looks, a smile makeover is something you might consider. During your meeting with a dentist, they might have recommended dental crowns as part of the procedure, …