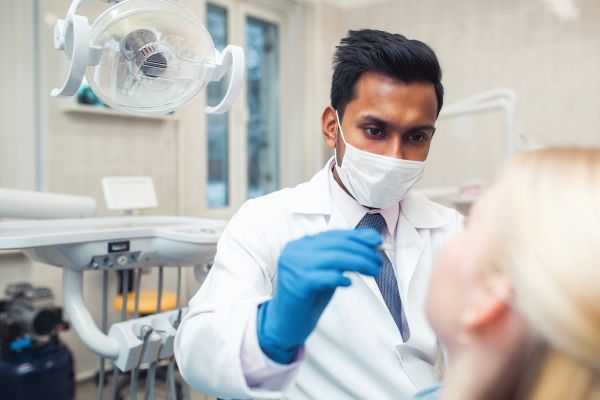 Getting the proper general dentistry services is important for everyone, no matter how busy. However, seeing a general dentist will help ensure that you can get all the dentistry services you need in one place. For many people, a general dentist is the only type of dentist they will need to see. There are several general dentistry services that are beneficial for even the busiest adults.
General cleaning
It is important to receive a general cleaning twice a year. The dentist will use a special electric toothbrush to clean the surface of each tooth. Then the dentist will scrape away plaque from the surface and between each tooth. An examination will be done to look for problems such as cavities, oral cancer and gum disease. The dentist can also instruct the patient on the proper brushing and flossing methods.
Dental X-rays
A dental X-ray is an image that the dentist will use to assess a patient's oral health. The dentist uses a low level of radiation to create an image of the teeth and of the gums. These images will help the dentist detect problems, such as tooth decay or cavities. Generally, patients can expect to receive X-rays once a year, or every other dental visit. Factors such as the patient's age, dental history or presence of gum disease will determine the type of X-ray and how often they are taken.
The X-ray is a quick, painless procedure. The dentist will place a lead vest across the patient's chest and lap. Then the patient will bite down on a piece of plastic. The X-ray machine will be placed next to the patient's head to record the image.
Cosmetic procedures
A dentist can also provide a range of cosmetic procedures. Many of these procedures are quick and require only one office visit. For example, teeth whitening can make the teeth look brighter and healthier. First, the dentist will apply a protective gel to the gums. Then the dentist will use a whitening product that contains a tooth bleach, such as hydrogen peroxide. These whitening products work by breaking the stains on the teeth into smaller pieces, making them less visible.
Gingivitis treatment
One of the signs of gingivitis is bleeding when brushing or flossing the teeth. The good news is that this early stage of gum disease can be easily treated by a general dentist. The dentist can perform a deep cleaning that goes beyond the gumline. A patient may be prescribed an antibiotic gel to help kill the bacteria that are causing the gum disease. The dentist may scrape plaque away from the teeth and from below the gumline.
Visit a dentist today for general dentistry services
No matter how busy you are, there are general dentistry services that do not require a large time commitment. General cleaning and dental X-rays are both important procedures for your mouth's overall health. Gingivitis treatment will help prevent gum disease from progressing further. Cosmetic procedures such as tooth whitening can make your smile look healthier.
Request an appointment here: https://www.palmbeachdentistry.com or call Palm Beach Dentistry at (561) 272-4110 for an appointment in our Delray Beach office.
Check out what others are saying about our services on Yelp: Read our Yelp reviews.
---
Related Posts
March 27, 2020
If you are not pleased with how your smile looks, a smile makeover is something you might consider. During your meeting with a dentist, they might have recommended dental crowns as part of the procedure, …